GFIA Art Program
By creating an ambience in the airport that reflects the cultural and artistic diversity of West Michigan and the world at large, our program aims to educate, inspire, and entertain all airport guests.
Our program is designed to feature both permanent and rotating exhibitions that refine the Airport environment while supporting local artists, art program students, and institutions in the community.
The program is a partnership between the Gerald R. Ford International Airport Authority and the Frey Foundation, with oversight provided by a committee comprising four representatives appointed by the Airport President & Chief Executive Officer, and two appointed by the Frey Foundation. By collaborating with artists throughout the region, the Ford Airport and Frey Foundation offer guests an enriched experience and warm welcome, representative of West Michigan.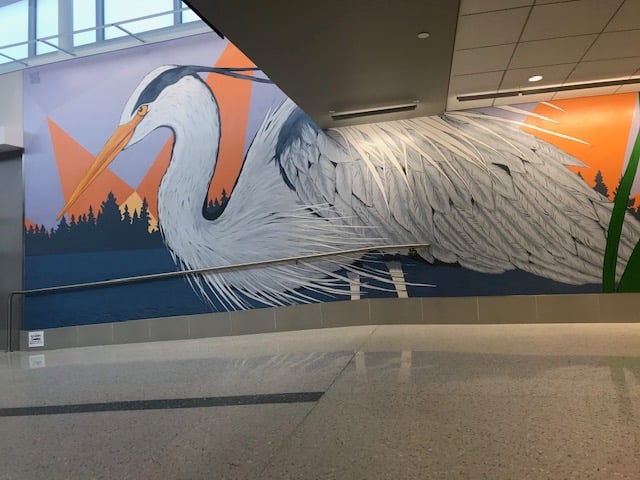 The Great Blue
Nick Nortier
Nick Nortier, Grand Rapids native, is one of two live muralists displaying his talents at GFIA. Nortier's painting, The Great Blue, features a blue heron on a Michigan waterway with a stunning purple and orange sunset in the background. Nortier says he believes the blue heron is one of the most beautiful creatures in Michigan.
"I am excited to have this opportunity to leave my mark at the Gerald R. Ford International Airport, and I look forward to being a part of the inaugural team of artists for this new program," said Nortier. The finished masterpiece graces the walls leading from the Marketplace to Concourse B. Travelers departing from either concourse can see portions of it from the Marketplace, and all may view it before heading to their gate. More.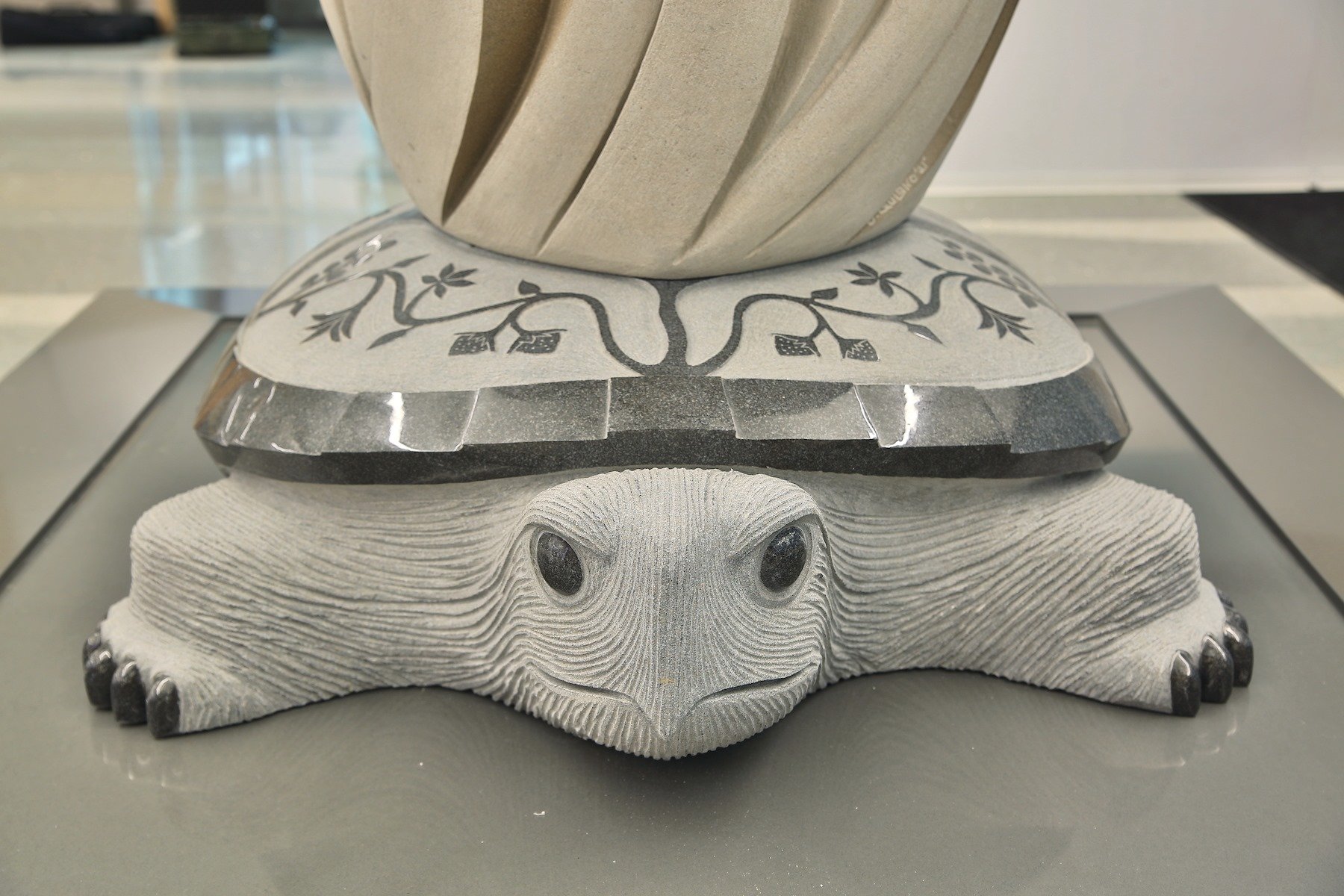 Aankobiisinging Eshki-kakamigak


by Jason Quigno
This striking piece, also known as Connection to Creation, pays homage to the rich Native American heritage of West Michigan. The sculpture, which is located near baggage claim, is carved from black granite and Indiana limestone and features important elements in Anishinaabe teachings.
As an Anishinaabe artist, Jason worked hard to not only make a symbolic sculpture for the Airport's guests, but to create a monument in honor of his people. "One of my purposes in life as an Anishinaabe man and sculptor is to honor my ancestors," Jason said. "My intention is to share a portion of the Anishinaabek's beautiful history, our stories and rich traditions in stone." More.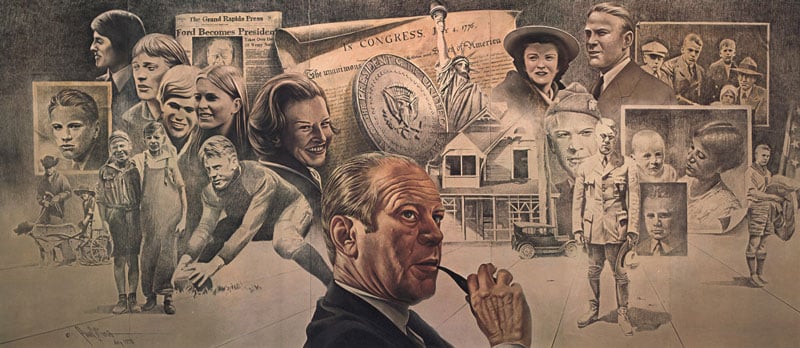 President Ford Mural


Paul Collins
This mural, painted in 1975 by celebrated Grand Rapids artist Paul Collins, stands in the far east end of our terminal. Eventually, this will be the location where international travelers will arrive in West Michigan. Collins helped pick out this strategic location as he felt President Ford would be the perfect image to welcome them to our community.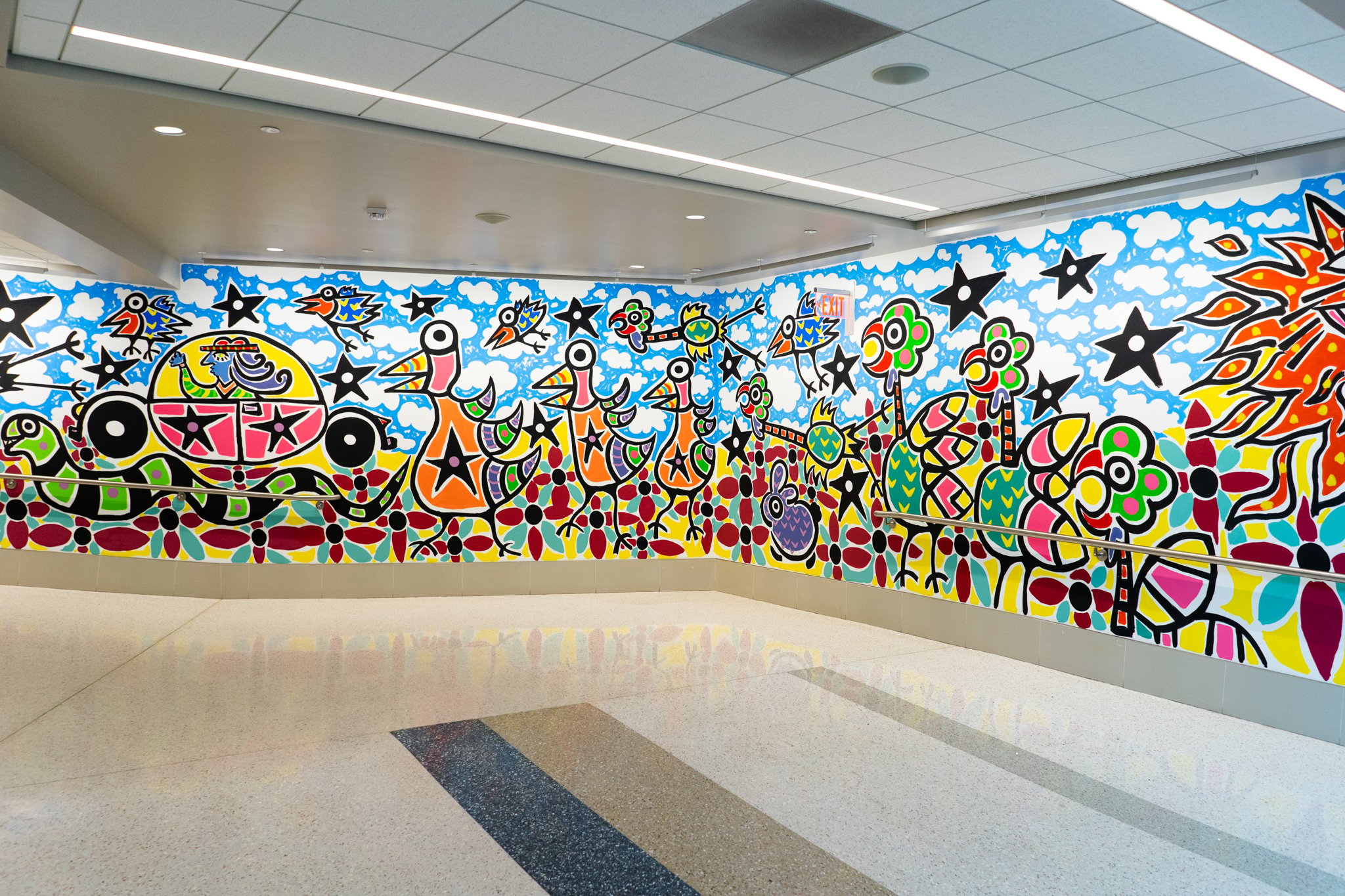 Chickens Don't Fly too Much


Reb Roberts
A bright, whimsical and action-packed mural that is vintage Roberts: bold colors, stylized characters and repeating patterns. Chickens, bluebirds and other birds join trucks, dogs and Roberts' signature sun to create a vibrant mural that welcomes or bids farewell to travelers on the ramp after the security checkpoint that leads up to Concourse A.

The theme was perfect for the Airport, according to the artist, who said "it feels like everyone is going somewhere, even the clouds...West Michigan wants to be a destination for art, and the Airport is the gateway to our community. To have a venue to do artwork for people who are coming and going from around the globe is really an open window for an artist." More.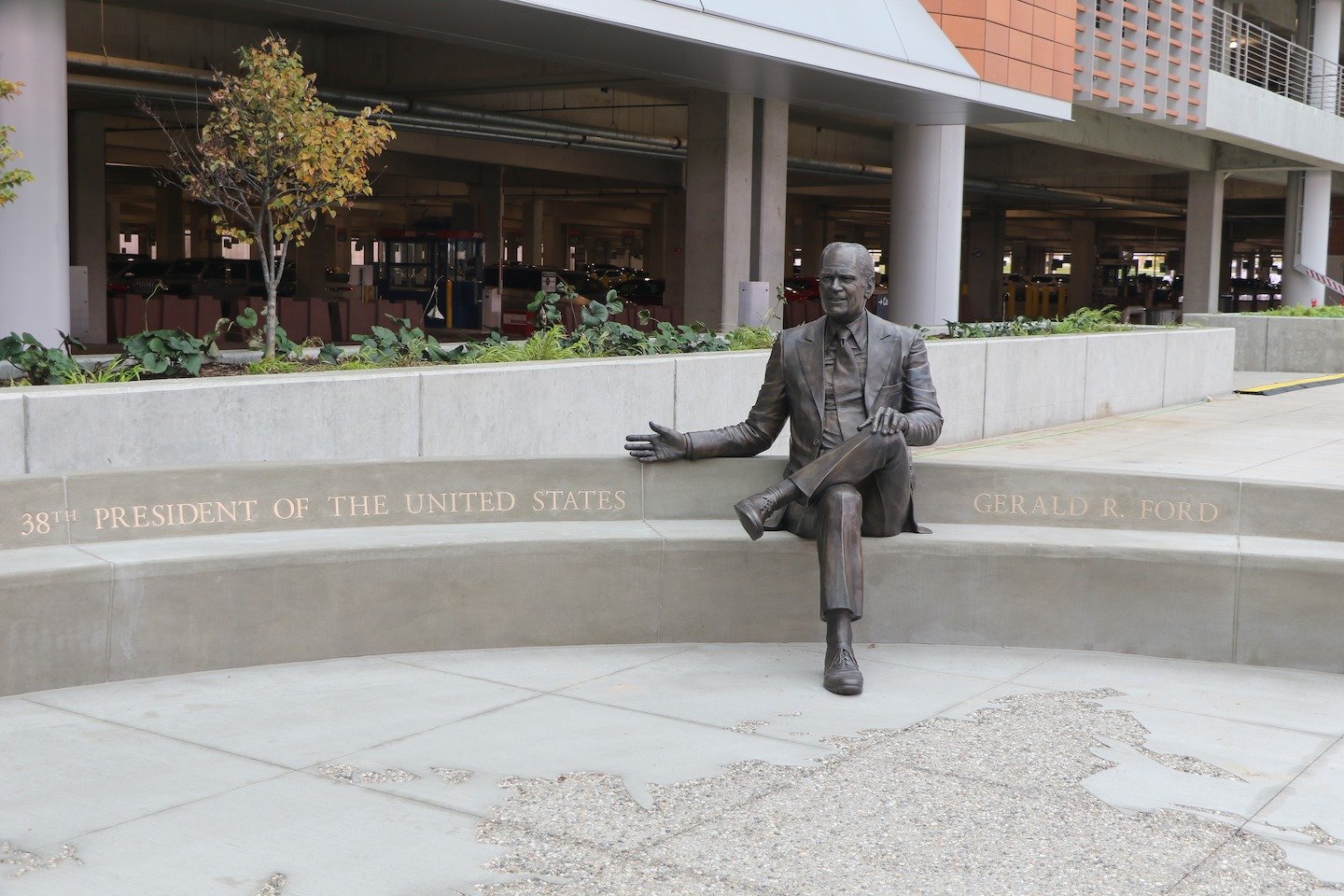 Ford Statue and Presidential Gateway Plaza



J. Brett Grill
Crafted in bronze, this is the 12th statue of the Grand Rapids Community Legends Project, which honors the individuals who shaped the culture of and helped build West Michigan. The Plaza, where the sculpture stands, serves as home to the statue and provides a warm welcome to travelers from all over the world.
"This sculpture stands in contrast to many of the existing monuments honoring presidents, which are typically posed and elevated," Grill explained. "Although Pres. Ford was certainly ambitious, he was, by all accounts, an everyman, humble and unassuming, not your typical politician.
"To reflect that, the sculpture sits comfortably, welcoming travelers to have a seat next to the leader of the free world. He is approachable, amiable, and honest: the quintessential family man. It is fitting this sculpture is placed at the Ford Airport in his hometown. Even when he lived elsewhere, he remained our neighbor." More.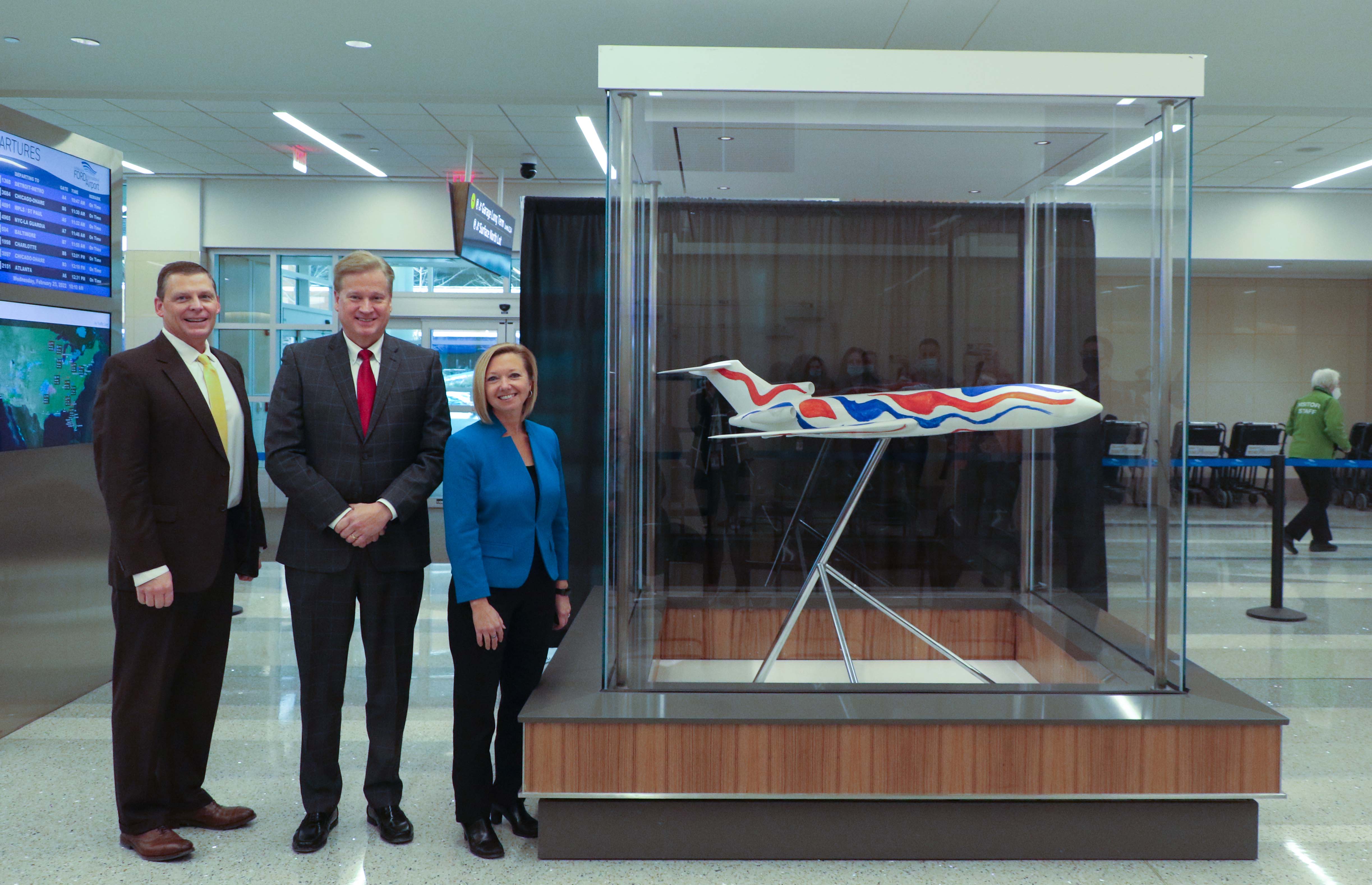 Flying Colors of the United States
Alexander Calder
This model airplane was commissioned by Braniff International and hand-painted by Alexander Calder. The Design was re-created on a Boeing 727. And that plane put into service by the airline in honor of the nation's bicentennial. The actual plane was dedicated in Washington D.C and New York on November 17, 1975. This model was presented to the City of Grand Rapids by Braniff when the Flying Colors flew into Grand Rapids two days later.
The City of Grand Rapids is loaning the model, which has a wing span of 74 inches, so it can be viewed by residents and visitors who travel through Ford International Airport. The plane is located in the entrance hall between the American Airlines and Delta Airlines ticketing counters. More.

Now Boarding: GFIA Stories, News, & Updates
Check out more stories from the airport and our community.