Parking Services
Convenient, safe, and affordable parking services for any trip.
Jump point: #parking-information
Parking is currently available in the garage, North Lot and East Lot.
As a goodwill gesture during the COVID-19 pandemic, we've lowered the North Lot parking fee from $13/day to $10/day to match the Economy Lot fee, due to its closure.
Please Note: Vehicles entering the parking garage may not exceed 8 feet 2 inches in height. Taller vehicles will need to opt for the North Lot or East Lot.
Short-Term Garage Parking:
$2/Hr $24/Day
Long-Term Garage Parking
$2/Hr $18/Day
Long-Term North Lot
$2/Hr $10/Day
Long-Term East Lot
$2/Hr $10/Day
*A Lost Ticket Fee of $10.00 will be assessed when the original parking stub cannot be produced when exiting the parking facilities (does not apply to Valet Parking).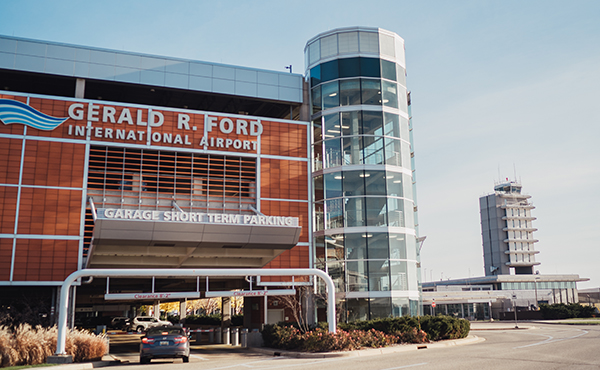 Jump point: #parking-services
Ground Transportation Services
Get to your West Michigan destination with our Car Rental, Taxi, Ride Share, Public Transportation, Hotel/Motel Shuttle, and Limousine Services.