GRAND RAPIDS, Mich., July 31, 2023 – The Gerald R. Ford International Airport is pleased to invite participants to join the annual GRR Runway 5K and one-mile fun run on Saturday, Sept. 9.
Registration is now open for this distinctive race, providing walkers and runners with a rare opportunity to compete on an actual airport runway. The race will commence north of the economy parking lot, onto taxiway Juliet, and runway 8L/26R—the Airport's general aviation runway—before concluding back at the parking lot.
Race-day registration and packet pickup will begin at 7 a.m., with the 5K race starting at 9 a.m. The one-mile fun run will begin at 9:05 a.m. Awards for the top three overall males, females and individual age groups will be presented at 10:15 a.m.
Early packet pickup and registration will take place from 4 p.m. to 7 p.m. on Sept. 8 at The Runnery, located at 5361 Alpine Ave. NW in Comstock Park.
The charity partner for this year's event is the West Michigan Veterans Coalition. This nonprofit is a collaboration between local military-friendly organizations that provide support, information and resources to current and former Armed Forces members and their families, employers and other organizations throughout West Michigan.
"We are delighted to host this family-friendly event," said Tory Richardson, President and CEO of the Gerald R. Ford International Airport Authority. "This race provides a unique experience for participants to run or walk on a course that is typically reserved for aircraft only.
"As an organization that values connections, this is a wonderful opportunity for our community to come together and support the West Michigan Veterans Coalition, which plays a critical role in assisting active military personnel, veterans and their families."
Local military assistance groups, the Patriot Guard Riders and Mid-Michigan Honor Flight, will be in attendance at the event to offer information on the resources and services they provide for military members and their families.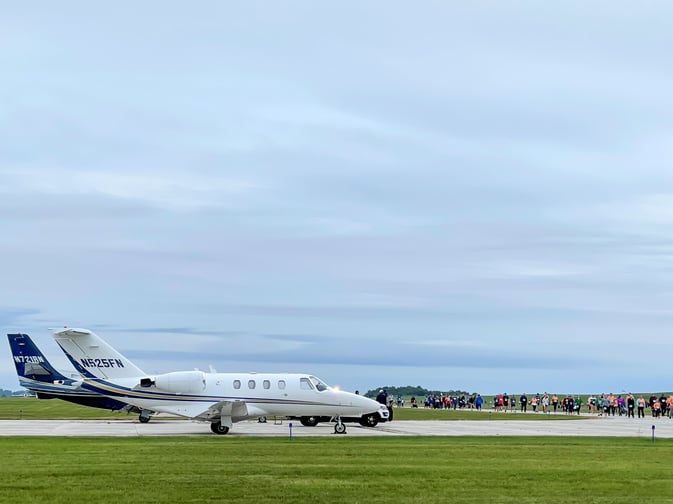 Registration for the 5K begins at $44, and $30 for the one-mile fun run. Participants will receive a T-shirt, finisher medals for those who complete the 5K or fun run, post-race snacks and beverages, awards for top finishers and free finisher's photos.
"The West Michigan Veterans Coalition empowers current and former members of the United States Armed Forces and their families to discover and connect with the benefits that have been earned through their service," said Debra Unseld, Outreach and Program Coordinator for the West Michigan Veterans Coalition. "Through our programs—the Military Family Assistance Fund, Scholarship Fund, Share-a-Meal Program, and our Kent County Transportation Program—the West Michigan Veterans Coalition fills a gap for those who may not qualify for other assistance.
"Being a charity partner allows us to tell our story on how the West Michigan Veterans Coalition is assisting Military-Connected families within the area we cover."
Ford International Airport's two commercial aviation runways will still be operational during the race.
The GRR Runway 5K focuses on partnering with local nonprofits that support residents of the greater West Michigan community. In 2022, the event raised $12,000 for charity. This year's presenting sponsor is The Christman Company. Experience Grand Rapids and Pioneer Construction are gold sponsors. Silver sponsors include DLZ, Hudson Group, Ice Mountain Water and Macatawa Bank. FastSigns and Orange Theory Fitness are bronze sponsors.
The race is organized by Trivium Racing and the Ford International Airport Authority.
About the Gerald R. Ford International Airport
The Gerald R. Ford International Airport is the second busiest airport in Michigan, serving business and leisure travelers with nonstop and connecting flights on six airlines. The Ford International Airport is managed and operated by the Gerald R. Ford International Airport Authority. For more information, visit www.flyford.org or follow the airport on Facebook, Twitter, LinkedIn and Instagram @FlyGRFord.
# # #