Newly Expanded Concourse A to Showcase Four Original Terrazzo Art Installations
GRAND RAPIDS, Mich., February 16, 2023 – The Gerald R. Ford International Airport is pleased to announce that four local artists have been selected to install permanent terrazzo floor art designs in the $110 million Concourse A expansion.
Thanks to support from the Frey Foundation, the Ford International Airport will continue to invest in local artists through its public art program. The Concourse A extension – part of Elevate capital expansion program – will feature three art mediums, including custom terrazzo flooring, a suspended art installation and wall art. The four artists selected to feature their terrazzo designs include:
George Eberhardt III
Kim Nguyen
Maureen Nollette
Michael Pfleghaar
"We are thrilled to feature these talented artists, each of whom brings a unique viewpoint of West Michigan, in our newly enhanced and modernized Concourse A," said Tory Richardson, Gerald R. Ford International Airport Authority president and CEO. "With millions of passengers passing through our Airport every year, we are delighted that the diverse talents of our art community will be showcased to all coming to our region."
Each terrazzo design reflects a different aspect of West Michigan—from the blues of Lake Michigan to the natural tans of the dunes, the grays and purples of the urban core to the greens of the forests and farmland in between. Artists crafted designs to complement the physical context of the local region while also expressing the non-physical perception, diversity and unique identity of the larger West Michigan community.
George Eberhardt III, inspired by aspects of Katsushika Hokusai's "The Great Wave off Kanagawa," referenced Lake Michigan and its water elements in his design that measures a diameter of 15 feet.
With a background in program development and curriculum design, Eberhardt focuses on enriching the lives of youth and diverse communities as an artist, muralist and art teacher. A previous ArtPrize® winner, Eberhardt's mural work can be seen across West Michigan with pieces at Slows BBQ in downtown Grand Rapids, Grand Rapids Public Schools, West Grand Neighborhood Organization, Roosevelt Park Neighborhood Association, Urban Institute for Contemporary Arts, among many others.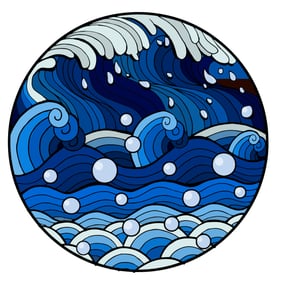 George Eberhardt III's terrazzo floor design
Kim Nguyen referenced the cities and towns of Grand Rapids and surrounding West Michigan areas while also including representations of Grand Rapids' agricultural, medical and manufacturing industries in her design. Her installation will pay homage to our community's former moniker, "Furniture City," while winding the Grand River and Grand Rapids' proximity to the shores of Lake Michigan.
"I am overjoyed and feel incredibly honored to be one of the artists helping new residents and future travelers see the beauty of our home through artwork beneath their feet," said Nguyen. "I have always felt a fondness for airports because they bring me the thrill of travel, and in the case of Ford International Airport, the relieving feeling of being almost home.
"I have a photograph where I am two years old and meeting my three older brothers at Ford International Airport, it is there that I met them and my grandparents for the very first time. Though I was born in Grand Rapids, my family are refugees and immigrants from Vietnam, and I can't imagine what they felt when they landed here in West Michigan."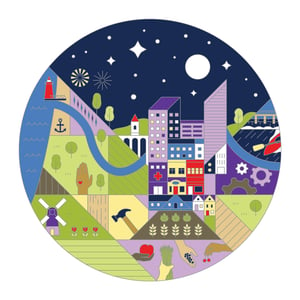 Kim Nguyen's terrazzo floor design
Maureen Nollette, inspired by a photograph she took of a Sand Cherry shrub on a roadside beach in Michigan, created designs to showcase the vastness of the Lake Michigan Dunes and the region's native flora.
Nollette is currently a visiting assistant professor at Grand Valley State University in the department of Visual & Media Arts and was previously a resident artist for the Josef and Anni Albers Foundation and Ngo Le Korsa Project in Sinthian, Africa, as well as for the Marble House Project in Dorset, Vermont. Maureen Nollette's terrazzo floor designs
Michael Pfleghaar recently completed a collection of plein air paintings which was translated into his terrazzo designs to replicate West Michigan's natural forestry and agriculture.
Pfleghaar has permanent collections at the Grand Rapids Art Museum, Frederik Meijer Gardens and Sculpture Park, Steelcase, Inc., Herman Miller, the State of Michigan and Grand Valley State University. Apple, HBO, CBS, ForeSee, Hayworth and Urban Institute for Contemporary Arts are a few of the organizations that have utilized his illustrative artwork.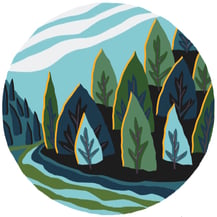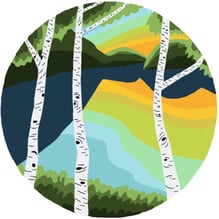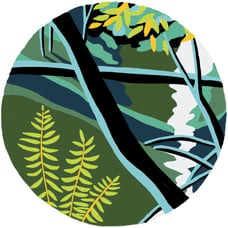 Michael Pfleghaar's terrazzo floor designs
The four terrazzo designs will be installed in highly visible locations for direct interaction with passengers. The artists worked closely with contractor, Central Tile and Terrazzo Co., to ensure the terrazzo accurately matches their artistic intent.
The installation of the terrazzo art pieces is expected to be completed by June 2023. For more information about the artists and the capital expansion program, Elevate, visit flyford.org/elevate.
About the Gerald R. Ford International Airport
The Gerald R. Ford International Airport is the second busiest airport in Michigan, serving business and leisure travelers with nonstop and connecting flights on six airlines. The Ford International Airport is managed and operated by the Gerald R. Ford International Airport Authority. For more information, visit www.flyford.org or follow the airport on Facebook, Twitter, LinkedIn and Instagram @FlyGRFord.
###