Taking West Michigan to new heights involves many hands at work, including 34 local contractors. The Gerald R. Ford International Airport prides itself on its collaborative nature and deep-rooted connection with the community. We've interviewed several of these local businesses to hear their fun facts, statistics, and favorite parts of working at the Airport. A special thanks to Vos Glass.
The capital expansion program, Elevate, includes an expanded concourse, a new control tower, more parking, enhanced rental car capabilities and improved baggage inspection technology. To learn more about our partners and the economic impact, visit https://flyford.org/elevate/community/.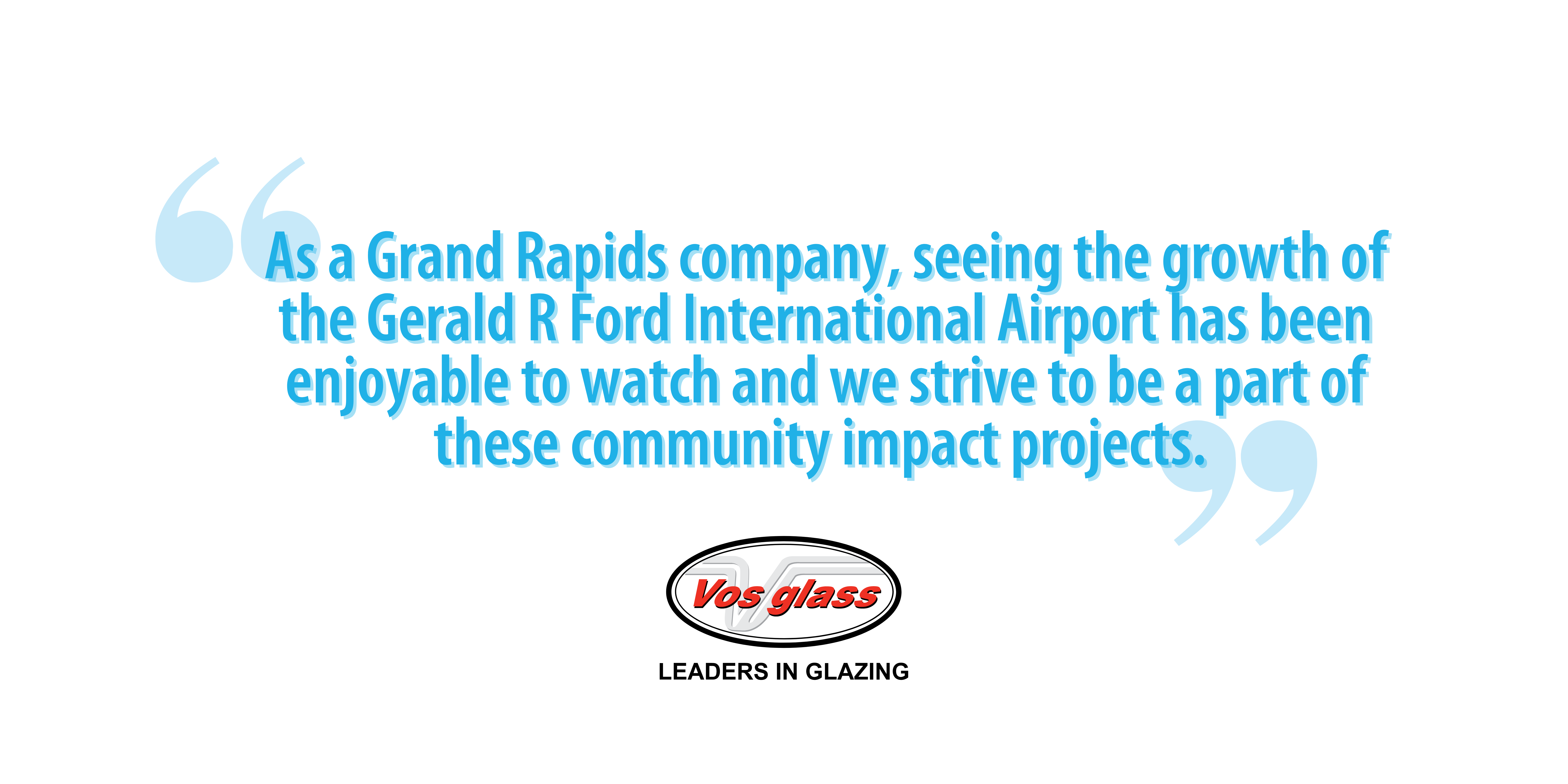 Q&A WITH VOS GLASS
Please share with us a little bit about you and your company:
We are a Grand Rapids based glazing contractor servicing Michigan since 1982, providing a full range of products and services to the commercial, residential, and service markets.
Where is your company headquartered?
Grand Rapids, Michigan.
What are some of the specialized skills that you and your team are most looking forward to bringing aboard this project?
We are excited to bring our prefabrication experience to this project by use of "unitized" curtainwall. This specialized process has the exterior curtainwall (glass sections of terminal) completely fabricated offsite in a factory setting, and then these units (glass and framing fully assembled) are bought onsite for a rapid building enclosure. This method allows for better quality and faster installation than traditional install methods of assembling all components onsite.
What's your favorite part of working on a project at the Airport?
As a Grand Rapids company, seeing the growth of the Gerald R Ford International Airport has been enjoyable to watch and we strive to be a part of these community impact projects. Also, the view while working at the new terminal is amazing.
What is one thing you want people to know about this newly expanded concourse once it opens to the public?
Over 1,000 pieces of glass and over 80,000 pounds of aluminum framing were used in this project.
One fun fact about your company?
Vos Glass provided the glazing on the last Airport project in 2018, the Gateway Transformation Project, which consolidated the Checkpoint and Marketplace.