U.S. Secretary of Transportation Highlights Importance of Bipartisan Infrastructure Law Funding for Investing in the Nation's Critical Infrastructure at Airport Press Event
Grand Rapids, Michigan, July 11, 2022 –The Gerald R. Ford International Airport will receive $8,687,870 from U.S. DOT's Airport Terminal Grant Program, made possible by the Bipartisan Infrastructure Law, or BIL, to support the addition of eight new passenger boarding bridges on its new state-of-the-art expanded Concourse A.
U.S. Secretary of Transportation Pete Buttigieg delivered remarks at a press event held at the Ford International Airport on the importance of this funding for the West Michigan region.
"This grant is going to help fund eight new passenger boarding bridges so that this airport can handle more travelers who will be able to walk or roll more comfortably from their gate to their plane," said Secretary Buttigieg. "It's going to make traveling better. It will allow Grand Rapids to accommodate that increasing passenger growth and support the economic opportunity that's emerging across West Michigan."
BIL is a once-in-a-generation $25 billion investment that will provide funding over the next five years to promote long-term benefits for Airports across the nation. This funding will focus on modernizing infrastructure, increasing equity in transportation, helping to fight climate change, strengthening the supply chain and creating jobs.
"We're making sure that people are going to be proud of their airport experiences across America and want to support the good work that is happening in communities like Grand Rapids," said Secretary Buttigieg.
"We are grateful to be a recipient of these funds, which will support our multi-million-dollar capital expansion program, one of the largest for a small-hub airport in the nation," said Tory Richardson, president and CEO of the Gerald R. Ford International Airport Authority. "This funding will create jobs in our community, allowing us to invest in our state's economic health and prosperity. I applaud Secretary Buttigieg and the administration on this remarkable achievement."
These improvements will expand the airport's gate capacity by over 50%, increase energy efficiency, provide greater accessibility to the region for all guests, and promote competition to increase collaborative opportunities for all of West Michigan.
Today's event also included remarks by Michigan Attorney General Dana Nessel and Kent County Board of Commissioners Chair Stan Stek.
"These dollars will ensure a better traveling experience for Michigan residents and those visiting our great state," Nessel said.
"The Gerald R. Ford International Airport is one of Kent County's premier assets. This airport serves as a portal to the world for our residents and businesses," said Stek. "In many ways, this airport is the lynchpin in our economic success."
This highly competitive program received 14 billion dollars worth of requests, the Ford International Airport was one of 90 airports selected as a recipient for the first year of funding.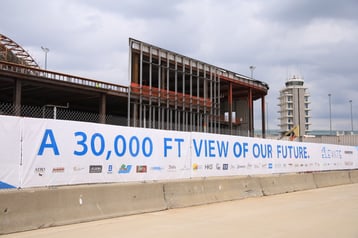 About the Gerald R. Ford International Airport
The Gerald R. Ford International Airport is the second busiest airport in Michigan, serving business and leisure travelers with nonstop and connecting flights on six airlines. The Ford International Airport is managed and operated by the Gerald R. Ford International Airport Authority. For more information, visit www.flyford.org or follow the airport on Facebook, Twitter, LinkedIn and Instagram @FlyGRFord.
# # #