May your days be furry and bright this holiday season! And if you're getting ready for holiday travel, our friends from West Michigan Therapy Dogs are here to help prepare you for a smooth traveling experience.
Halo:
Tip #1 - We have wonder-fur areas for all of our travelers, from kids to professionals! Enjoy our Helen DeVos Children's Hospital Kids' Ports and Steelcase Business Lounges.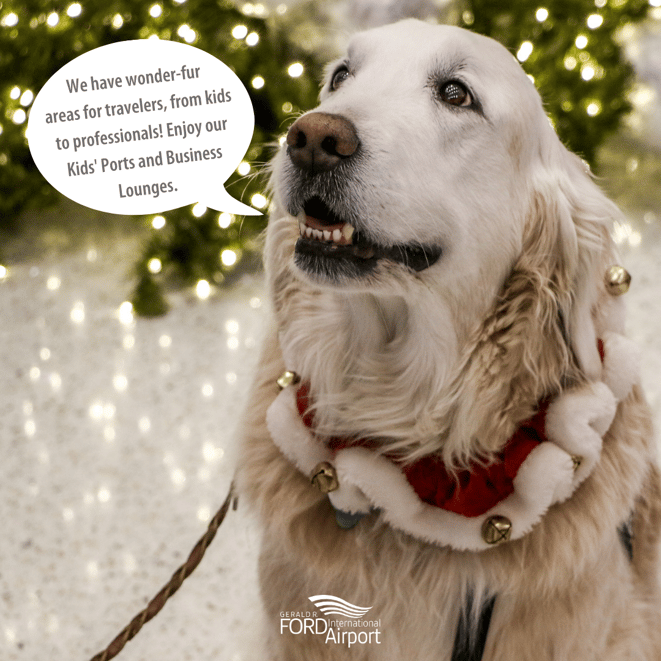 Molly:
Tip #2 - Molly doesn't want you to forget about the BISSELL Pet Relief Area located pre-security outside the west end of the terminal building!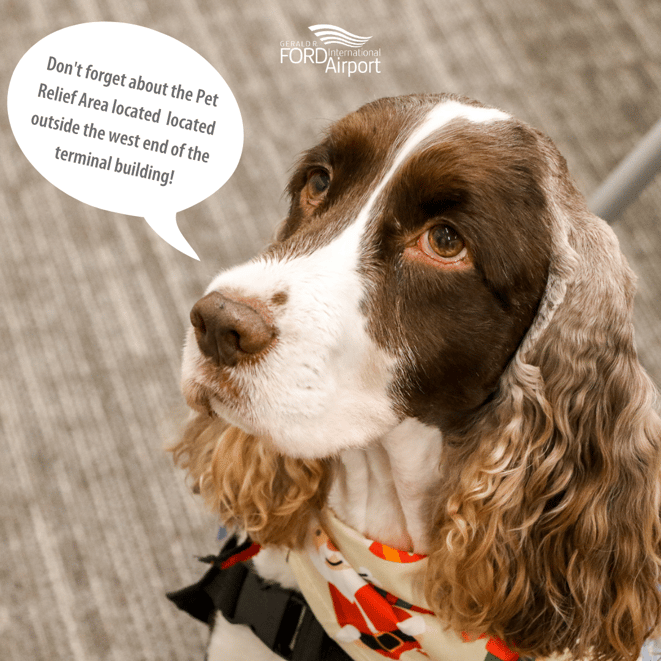 Tucker:
Tip #3 - Sometimes traveling can be ruff. Tucker wants to remind you to check with your airline if you have questions on any changes to your flight, baggage, their plane de-icing operations and more.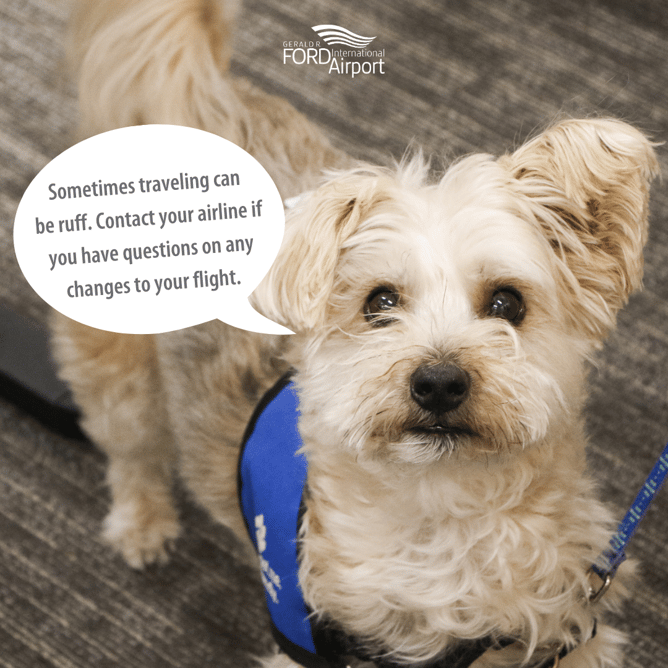 Poohtine Elizabeth:
Tip #4 - Poohtine Elizabeth loves getting to the airport early and suggests you do the same! She recommends arriving at least two hours prior to your scheduled departure to begin the check-in procedure. Most airlines start boarding 30-50 minutes prior to departure depending on the location, so be sure to arrive at your gate earlier rather than later.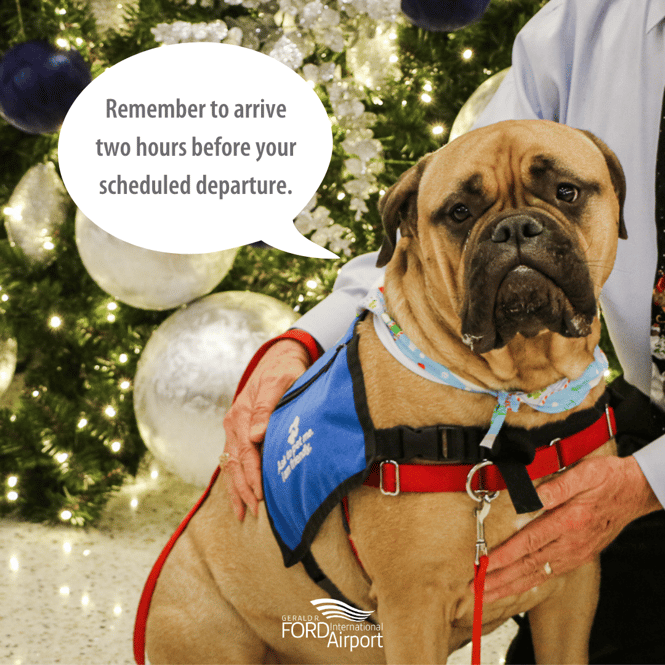 Callie:
Tip #5 - Callie hopes you have a pawsome trip! Remember to keep all liquids, gels, baked goods, pies and creams under 3.4 oz.
To make the TSA screening process as quick and smooth as possible, familiarize yourself with the TSA's 3-1-1 Rule for all liquids and gels. Are you wondering if you can bring a specific item in your carry-on? Check out TSA's handy "What Can I Bring?" search tool. Below are some quick tips on how to pack commonly brought items by travelers:
Deodorant: Stick deodorant is not limited to 3.4 oz or less, but gel or spray deodorant is.
Makeup: Any liquid makeup such as eyeliner, nail polish, liquid foundation, etc., as well as perfume is limited to the 3.4 oz or less rule.
Powders: Are generally okay, however, know that TSA officers may provide instruction to remove powders and may result in secondary screening.
Presents and packages: All gifts should be unwrapped when being packed in your checked and carry-on baggage.
Beverages: Wine and all of your favorite beverages are permitted in your checked baggage.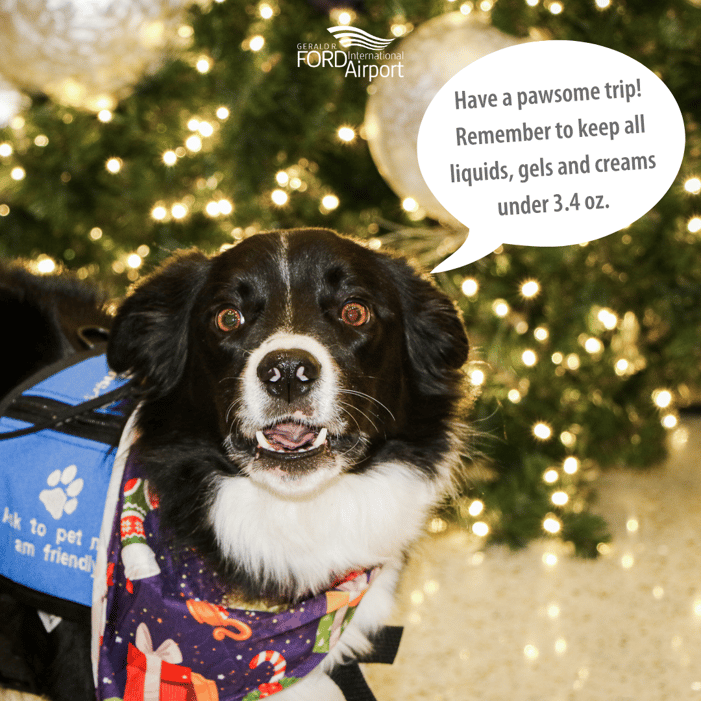 More Travel Treats and Tips:
Parking
We recommend arriving early to park your car and make your way to the terminal. To learn more about our parking services and additional transportation options, please visit flyford.org/parking-services.
Ground Transportation
The Airport has many transportation options to help arriving passengers get where they need to go. These options include our rideshare partners at Uber and Lyft, Metrocab and rental car companies who are both available till the last flight of the day. Please visit flyford.org/ground.
Waiting for a Passenger Arrival
Please remember that the terminal building curb front is limited to immediate pick-up and drop-off only. Vehicles may not park or wait at the terminal curb front. If you are picking someone up and they are not ready and waiting on the curb, we suggest parking in the cell phone lot located off of Pederson Court. You may wait in your vehicle for your passenger to call and then proceed to the curb front to pick them up. Directional signage is in place to guide you to the lot & a map is shown below.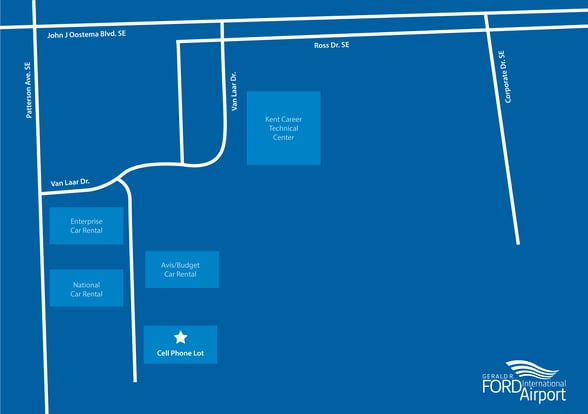 Amenities
We're all about helping you enjoy your vacation — which begins with a great airport experience.
Our restaurants and shops are open, please check their hours of operation at flyford.org/amenities.
If you need to request a wheelchair, you can call (616) 550-7643 in advance of your arrival and speak with a representative of Prospect Airport Services. Or when you arrive at the airport, you can go to your airline's ticket counter or to the Visitor Information Desk in the baggage claim area.
Check out all of our offerings and hours of operations at flyford.org/amenities.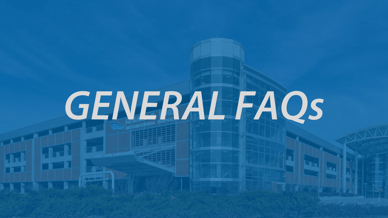 Helpful resources
Need a quick answer? Tweet your question at

@AskTSA