Getting ready to travel for spring break? We look forward to having you join us before your flight. To help you have a smooth traveling experience, we have put together a few tips to help you prepare for your trip.
Arrive early
Plan to arrive at least two hours prior to your scheduled departure to begin the check-in procedure. With expanded safety protocols and increased traffic, long lines can be expected. Most airlines start boarding 30-50 minutes prior to departure depending on the location, so be sure to arrive at your gate earlier rather than later.
Carry-on baggage cautions
To make the TSA screening process as quick and smooth as possible, familiarize yourself with the TSA's 3-1-1 Rule for all liquids and gels. Are you wondering if you can bring a specific item in your carry-on? Check out TSA's handy "What Can I Bring?" search tool. Below are some quick tips on how to pack commonly brought items by spring break travelers:
Deodorant:

Stick deodorant is not limited to 3.4 oz or less, but gel or spray deodorant is.

Makeup: Any liquid makeup such as eyeliner, nail polish, liquid foundation, etc., as well as perfume is limited to the 3.4 oz or less rule.
Powders: Are generally okay, however, know that TSA officers may provide instruction to remove powders and may result in secondary screening.
Sunscreen and tanning lotion: Must adhere to the TSA liquid policy. Containers holding more than 3.4 oz must be packed in your checked baggage.
Beverages: Wine and all of your favorite beverages are permitted in your checked baggage.
Parking
Spring break is one of the busiest times of the year at the Airport. We recommend arriving early to park your car and make your way to the terminal. Please see the parking lot fees below for all lots.
Short-term Garage: $2/ first 1/2 hour | $1 additional 1/2 hour | $24/day

Long-term Garage: $2/hour | $18/day

East Lot: $2/hour | $15/day

North Lot: $2/hour | $13/day

Economy Lot: $2/Hr | $10/Day
To learn more about our parking services and additional transportation options, please visit flyford.org/parking-services.
Waiting for a Passenger Arrival
Please remember that the terminal building curb front is limited to immediate pick-up and drop-off only. Vehicles may not park or wait at the terminal curb front. If you are picking someone up and they are not ready and waiting on the curb, we suggest parking in the cell phone lot located off of Pederson Court. You may wait in your vehicle for your passenger to call and then proceed to the curb front to pick them up. Directional signage is in place to guide you to the lot & a map is shown below.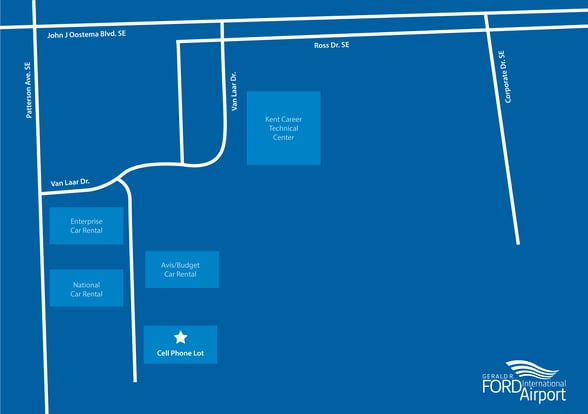 COVID-19 Protocols
Following the guidance of federal, state and county health experts, Ford Airport has established COVID-19 guidelines to ensure the health and safety of our guests, our team and our airline partners. We ask everyone who visits the Ford Airport to abide by these guidelines, which are based on Michigan law and enforced by TSA and Airport staff. Failure to follow these guidelines may result in being asked to leave Airport grounds immediately.
Please note: All guests two and older must wear an approved facial covering at all times while on Airport property and throughout the duration of your flight, per TSA directive.
The Airport has extra sanitation and safety measures designed to keep all guests healthy and provide greater peace of mind while traveling. In addition to wearing a facial covering, you'll find reminders about staying six-feet apart throughout the terminal. We have free hand sanitizing stations throughout our facility, and masks are available at stations near the entrance doors. Additionally, restrooms and high-touch spaces are thoroughly cleaned on a regular basis.
COVID-19 Testing
Each airline, state and country has different COVID-19 testing requirements. Depending on your destination, you may be required to present negative test results before boarding your flight. Be sure to check directly with your airline and destination on testing requirements.
Thanks to our partnership with TACKL Health, guests can conveniently receive COVID-19 tests in our economy overflow lot prior to boarding. The drive-up, no-appointment-needed site is open 6 a.m.- 6 p.m. daily.
We recommend those wishing to utilize TACKL's services arrive a minimum of three hours before their scheduled departure time.
Amenities
We're all about helping you enjoy your vacation — which begins with a great airport experience.
Our restaurants and shops are open, please check their hours of operation at flyford.org/amenities. Whether you are looking for a cup of coffee to go, a magazine for your flight, a craft beer with a view or a meal before you depart, we've got you covered.
If you need to request a wheelchair, you can call (616) 550-7643 in advance of your arrival and speak with a representative of Prospect Airport Services. Or when you arrive at the airport, you can go to your airline's ticket counter or to the Visitor Information Desk in the baggage claim area.
Check out all of our offerings and hours of operations at flyford.org/amenities.
We will be giving away treats and gift bags to spring break travelers departing from and arriving to the Airport on April 1st, 2022.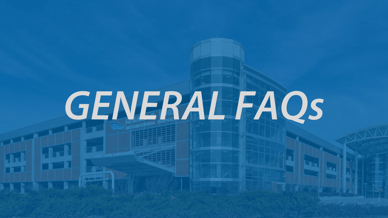 Helpful resources