Taking West Michigan to new heights involves many hands at work, including 34 local contractors. The Gerald R. Ford International Airport prides itself on its collaborative nature and deep-rooted connection with the community. We've interviewed several of these local businesses to hear their fun facts, statistics, and favorite parts of working at the Airport. A special thanks to The Christman Company.
The capital expansion program, Elevate, includes an expanded concourse, a new control tower, more parking, enhanced rental car capabilities and improved baggage inspection technology. To learn more about our partners and the economic impact, visit https://flyford.org/elevate/community/.
Q&A WITH THE CHRISTMAN COMPANY
Please share with us a little bit about you and your company:
Founded in 1894, The Christman Company is one of the country's leading professional construction services firms. Christman has been serving and building West Michigan for more than 30 years and is invested locally with deep roots in the region. Our staff live and work in the communities of West Michigan and take great pride in contributing their skills to the growth and improvement of our area. Christman's award-winning services include construction management, general contracting, design/build, program management, real estate development, self-perform and millwork services. Our project teams specialize in a variety of construction markets, including higher and K-12 education, healthcare, corporate office, industrial and power, and government. We value our long-time trusted partnerships and are thrilled to be part of the West Michigan community landscape.
Where is your company headquartered?
Lansing, MI. Regional Office in Grand Rapids, MI.
How is your company supporting the Concourse A expansion project?
Christman is serving as construction manager for the Concourse A expansion project. Our role is not just simply to construct the facility and lead the trade contractors on site, but to work collaboratively with the Gerald R. Ford International Airport and design team to develop creative solutions and proactively identify challenges so we can tackle them together.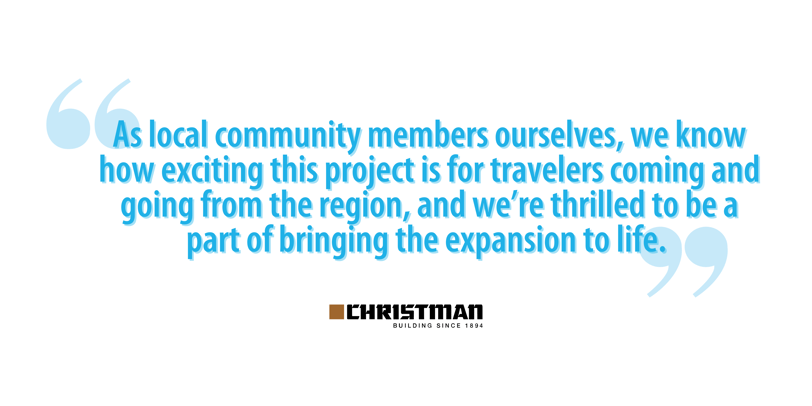 What's your favorite part of working on a project at the Airport?
Given the nature of the Airport's fast-paced, high-security environment, our team thrives in managing all the moving parts. As local community members ourselves, we know how exciting this project is for travelers coming and going from the region, and we're thrilled to be a part of bringing the expansion to life. Knowing how critical it is for the Airport to run smoothly even in the midst of a large-scale construction project, we account for every detail and are constantly making sure the progress on our jobsite doesn't hinder any of the Airport's regular operations.
What is one thing you want people to know about this newly expanded concourse once it opens to the public?
Our experience constructing a variety of projects at the Airport over the past decade truly hits home for our team members as we work alongside industry partners to transform the air travel gateway to and from West Michigan. The Concourse A expansion is particularly special because it involves over 34 local business partners coming together to construct a critical project that supports our Airport's continued growth. This project has created 125 construction jobs and more than 300 new permanent jobs. You might be surprised to learn these additional project facts:
Over 5,000 yards of concrete used
128 tons of concrete reinforcing steel
Over 4,300 structural steel pieces
Over 1,200 light fixtures
100% of removed concrete, asphalt and aggregate are being reused or recycled
All new steel is made in the USA and contains 94-98% recycled steel content
Air-to-air energy recovery units will reuse heating and cooling energy rather than exhausting