Taking West Michigan to new heights involves many hands at work, including 34 local contractors. The Gerald R. Ford International Airport prides itself on its collaborative nature and deep-rooted connection with the community. We've interviewed several of these local businesses to hear their fun facts, statistics, and favorite parts of working at the Airport. A special thanks to Central Tile.
The capital expansion program, Elevate, includes an expanded concourse, a new control tower, more parking, enhanced rental car capabilities and improved baggage inspection technology. To learn more about our partners and the economic impact, visit https://flyford.org/elevate/community/.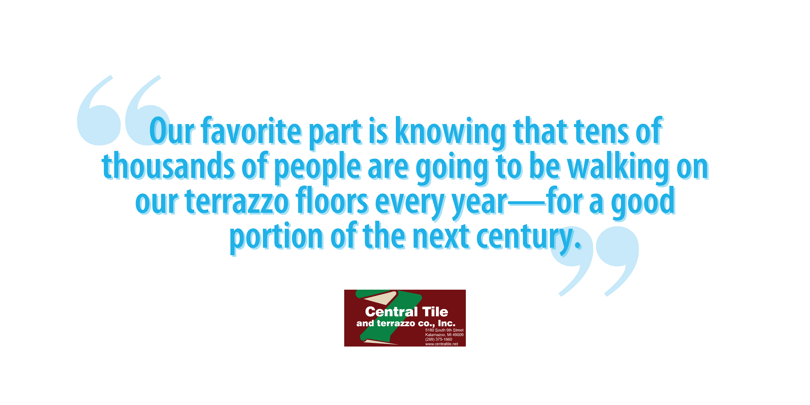 Q&A WITH CENTRAL TILE & TERRAZZO CO., INC.
Please share with us a little bit about you and your company:
We are a 3rd generation family-owned flooring business. We have 86 years of experience since our founding in 1936.
Where is your company headquartered?
Kalamazoo, Michigan.
What are some of the specialized skills that you and your team are most looking forward to bringing aboard this project?
Epoxy terrazzo is an art form that takes years to master, so our workers have to be highly skilled. Our company has been doing this type of work since 1936 and are one of just a few terrazzo companies in Michigan.
What's your favorite part of working on a project at the Airport?
Our favorite part is knowing that tens of thousands of people are going to be walking on our terrazzo floors every year—for a good portion of the next century.
What is one thing you want people to know about this newly expanded concourse once it opens to the public?
That 2,600 gallons of epoxy liquid and 80,000 pounds of marble/glass aggregate were combined to make the nine color, beautifully designed epoxy terrazzo floor that travelers will be walking on every day.
One fun fact about your company?
Central Tile & Terrazzo is one of only four terrazzo contractors in the state of Michigan and one of only around 100 contractors throughout the entire USA.