Taking West Michigan to new heights involves many hands at work, including 34 local contractors. The Gerald R. Ford International Airport prides itself on its collaborative nature and deep-rooted connection with the community. We've interviewed several of these local businesses to hear their fun facts, statistics, and favorite parts of working at the Airport. A special thanks to Fischer Idema Excavating.
The capital expansion program, Elevate, includes an expanded concourse, a new control tower, more parking, enhanced rental car capabilities and improved baggage inspection technology. To learn more about our partners and the economic impact, visit https://flyford.org/elevate/community/.
Q&A WITH FISCHER-IDEMA EXCAVATING
Please share with us a little bit about you and your company:
We are local and started out with just a couple of us and an idea – to treat people (both our team members, and our customers) differently. While we are far from perfect we try to do what we say we will do (again for our team members as well as our customers). We have been blessed beyond our what we could have ever dreamed with the team members we have on board that allow our company to thrive and flourish in this business.
How many people work at your company?
25 employees.
Where is your company headquartered?
Alto, Michigan.
How is your company supporting the Concourse A expansion project?
We are doing the earthwork for the CUP expansion and digging/backfilling the utility trench that runs from the Grand Hall along Concourse A out to the new expansion.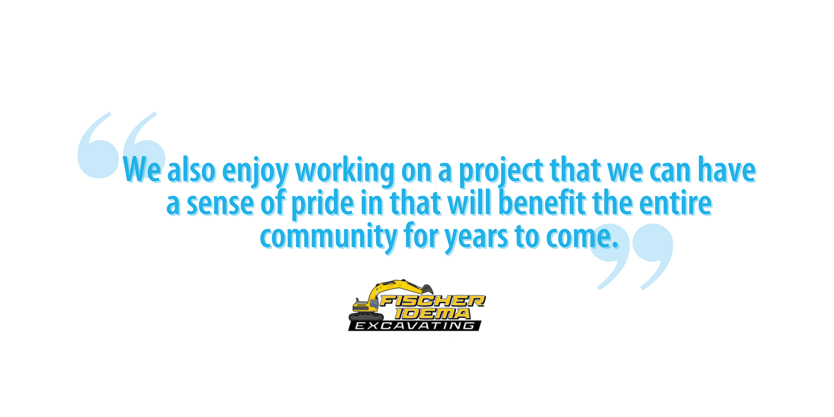 What are some of the specialized skills that you and your team are most looking forward to bringing aboard this project?
We bring a diverse level of experience and therefore are able to think outside the box for solving things that arise and offer our view on how to creatively solve challenges in front of us.
What's your favorite part of working on a project at the Airport?
While it is definitely a higher stress environment, its also fast paced which makes it interesting. We also enjoy working on a project that we can have a sense of pride in that will benefit the entire community for years to come.
What is one thing you want people to know about this newly expanded concourse once it opens to the public?
There is so much planning and coordinating that goes on daily during construction to work together as a group to achieve the end goal of what is seen.
One fun fact about your company?
We worked on the first phase of the CUP building and at that time it was our largest project, since that time our work on the FIS building at the airport became our largest project (by contract amount.)