Taking West Michigan to new heights involves many hands at work, including 34 local contractors. The Gerald R. Ford International Airport prides itself on its collaborative nature and deep-rooted connection with the community. We've interviewed several of these local businesses to hear their fun facts, statistics, and favorite parts of working at the Airport. A special thanks to Bazen Electric.
The capital expansion program, Elevate, includes an expanded concourse, a new control tower, more parking, enhanced rental car capabilities and improved baggage inspection technology. To learn more about our partners and the economic impact, visit https://flyford.org/elevate/community/.
Q&A WITH BAZEN ELECTRIC COMPANY
Please share with us a little bit about you and your company:
Founded in Grand Rapids, Michigan in 1957 by John Bazen, Sr., Bazen Electric is a family-owned company serving all of western Michigan. We have a strong commitment to the local community. With a positive work ethic and a solid reputation in the community, the company has steadily grown and now employs over 70 team members. Our knowledge and expertise on a wide variety of projects allows us to provide significant value to our customers. Our dedicated team provides exceptional service with a continued emphasis on quality. While the company continues to grow, one thing remains the same – we treat our employees and customers with the respect they deserve and have come to expect.
How many people work at your company?
Over 70 team members.
Where is your company headquartered?
Grand Rapids, Michigan.
How is your company supporting the Concourse A expansion project?
We are the electrical contractor for the project, supplying all lighting, gear, and all electrical systems for the Concourse Expansion project.
What's your favorite part of working on a project at the Airport?
We enjoy working with the other trades to complete a project that helps make our community a great place to live and visit, while also demonstrating the talent we have in this community. Our airport is the "first impression" for business and vacationing travelers who come to our city. We are thankful and proud to be part of that "first impression" feel.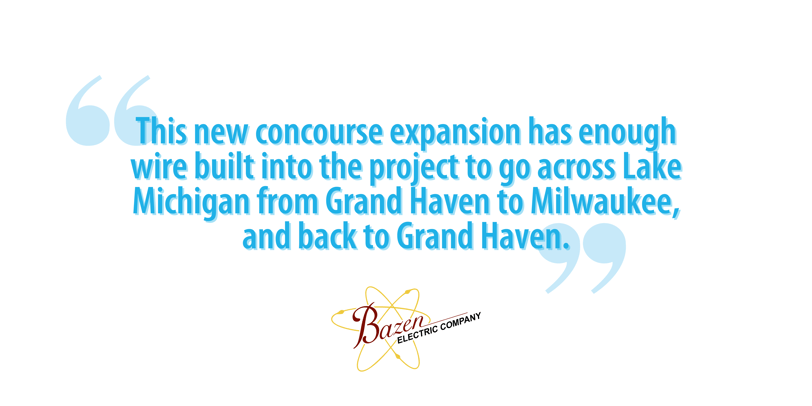 What is one thing you want people to know about this newly expanded concourse once it opens to the public?
This new concourse expansion has enough wire built into the project to go across Lake Michigan from Grand Haven to Milwaukee, and back to Grand Haven.